Assoc. Prof. Murat Somer
Assoc. Prof. Murat Somer was Senior Visiting Scholar at the Stockholm University Institute for Turkish Studies (SUITS) during 2013 amd 2014. He is an Associate Professor of Political Science and International Relations, Koç University, Istanbul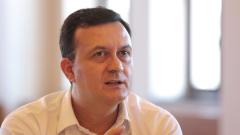 Dr. Murat Somer, Senior Visiting Scholar at SUITS, Stockholm University.
Somer's research is focused on comparative democratization, especially in relation to elite values and divisions, and ethnic, religious and secular politics. His writings on ethnic conflict and nationalism, democratization in Turkey and the Middle East, religious and secular politics, the Kurdish question, and political Islam have been published in numerous book volumes and academic journals including Comparative Political Studies, Democratization, Third World Quarterly, and The Middle East Journal. Currently, he is working on a book on the relationship between Muslim and secular elite values and democracy.
His opinion pieces have appeared in publications such as Foreign Policy, The National and Radikal 2 and he has been a frequent contributor to Turkish and international broadcast media.
Somer held visiting positions and has spoken and lectured in numerous universities, think tanks and governmental agencies in Europe and the US. His research on religious and secular elite values and social and political pluralism won a Sabancı-Brookings International Research Award in 2009 and he was a Democracy and Development fellow at Princeton University, New Jersey, in 2010-2011.

A former Mellon post-doctoral fellow on modern ethnic conflicts at the University of Washington in Seattle, Dr. Somer holds a BA in Economics from Istanbul's Boğaziçi University and an MA in Economics and a PhD in Political Economy and Public Policy from the University of Southern California in Los Angeles.
Links:
http://home.ku.edu.tr/~musomer/
http://tr.linkedin.com/pub/murat-somer/63/a79/a30
Publications:
28. "Barış Süreci ve Kürt Meselesi'nde Kimlik ve Dış Politika: Riskler ve Fırsatlar," (The Peace Process and Identiy and Foreign Policy in the Kurdish Question), Orsam
27. "Islamist Political Parties, the Turkish Case and the Future of Muslim Polities," in Quinn Mecham and Julie Chernov Hwang (eds), Strategies and Behavior of Islamist Political Parties: Lessons from Asia and the Middle East (Forthcoming in University of Pennsylvania Press)
26. "Is Turkish Secularism Anti-Religious, Reformist, Separationist, Integrationist, or Simply Undemocratic?" Review Essay on Berna Turam, ed., Secular State and Religious Society: Two Forces in Play in Turkey (New York: Palgrave, 2012), Journal of Church and State 55 (3): 585-597 (2013)
25. "Moderation of Religious and Secular Politics, a Country's 'Center' and Democratization," Democratization (Nov. 2012) DOI:10.1080/13510347.2012.732069
24. "The Janus-Faced Relation of Religious Non-State Actors and Human Security: Islamic and Secular Values in Turkey," pp. 30-47 in James Wellman and Clark Lombardi, eds, Religion and Human Security (Oxford University Press, 2012)
23. "Does It Take Democrats to Democratize?: Lessons From Islamic and Secular Elite Values in Turkey," Comparative Political Studies 44 (5): 511-545 (May 2011)
22. "Kürt Meselesi'nde Dünü ve Bugünü Barış İçin Yorumlamak" (Interpreting the Past and the Future of the Kurdish Question for Peace), pp. 15-81 in Konda Araştırma (Ed.), Kürt Meselesi'nde Algı ve Beklentiler (Perceptions and Expectations in the Kurdish Question) (Istanbul: İletişim Yayınları, 2011)
21. "Toward A Non-Standard Story: The Kurdish Question and the Headscarf, Nationalism, and Iraq," pp. 253-288 in Ayşe Kadıoğlu and Fuat Keyman, eds, Symbiotic Antagonisms in Turkey: Sources, Discourses and Changing Nature of Turkish, Kurdish, and Islamic Nationalisms (The University of Utah Press, 2011)
20. "Media Values and Democratization: What Unites and What Divides Religious-Conservative and Pro-Secular Elites?" Turkish Studies 11 (4), pp. 555-577 (December 2010)
19. "Democratization, Clashing Narratives, and 'Twin Tolerations' between Islamic-Conservative and Pro-Secular Actors," pp. 28-47 in Marlies Casier and Joost Jongerden, eds, Nationalisms and Politics in Turkey: Political Islam, Kemalism and the Kurdish Issue (New York: Routledge, 2010)
18. "Turkey's New Kurdish Opening: Religious versus Secular Values" Middle East Policy 17 (2) (Summer 2010), pp. 152-165 (with Evangelos G. Liaras)
17. "New Muslim Pluralism and Secular Democracy in Turkey and the EU," pp. 95-111 in Elizabeth Prugl and Markus Thiel, eds., Diversity in the European Union (New York: Palgrave/Macmillan, 2009) (with Gönül Tol)
16. "Why Aren't Kurds Like the Scots and the Turks Like the Brits? Moderation and Democracy in the Kurdish Question," Cooperation and Conflict 43 (2), pp. 220-249 (June 2008)
15. "Moderate Islam and Secularist Opposition in Turkey: Implications for the World, Muslims and Secular Democracy," Third World Quarterly 28 (7), pp. 1271-1289 (October 2007)
14. "Defensive- and Liberal Nationalisms, the Kurdish Question and Modernization/Democratization," pp. 103-135 in E. Fuat Keyman, ed., Remaking Turkey: Globalization, Alternative Modernities, and Democracy (Oxford: Lexington Books, 2007)
13. "Sustainable Democratization and the Roles of the US and the EU: Political İslam and Kurdish Nationalism in Turkey," Turkish Policy Quarterly 5 (3), pp. 89-108 (November 2006)
12. "Resurgence and Remaking of Identity: Civil Beliefs, Domestic and External Dynamics, and the Turkish Mainstream Discourse on Kurds," Comparative Political Studies 38 (6), pp. 591-622 (August 2005)
11. "Defensive- vs. Liberal-Nationalist Perspectives on Diversity and the Kurdish Conflict: Europeanization, the Internal Debate, and Türkiyelilik," New Perspectives on Turkey 32, pp. 73-91 (2005)
10. "Failures of the Discourse of Ethnicity: Turkey, Kurds, and the Emerging Iraq," Security Dialogue 36 (1), pp. 109-128 (March 2005)
9. "Demokratlığın Politik Ekonomisi: Inanılır Demokrasi, Düzenleyici Devlet, ve AB'li Küreselleşme," (The Political Economy of Being A Democrat: Credible Democracy, Regulatory State, and Globalization with the EU), Doğu Batı 7 (28), pp. 227-250 (August 2004)
8. "Turkey's Kurdish Conflict: Changing Context and Domestic and Regional Implications," Middle East Journal 58 (2), pp. 235-253 (Spring 2004)
7. "Ethnic Kurds: Rival and Compatible Definitions of Identities, and Turkey's Integration with the EU," pp. 331-349 in Armand Clesse and Seyfi Tashan, eds., Turkey and the EU: 2004 and beyond (Dutch University Press, 2004)
6. "Looking Objectively at Rebels: The Political Economy of Violence, Kurdish Nationalism, and the PKK." Review of "Primitive Rebels or Revolutionary Modernizers?" by Paul White. Turkish Studies 5 (2), pp. 162-165. Summer 2004
5. "Insincere Public Discourse, Trust, and Implications for Democratic Transition: The Yugoslav Meltdown Revisited." Journal for Institutional Innovation, Development, and Transition 6, pp. 92-112 (December 2002)
4. "Ethnic Kurds, Endogenous Identities, and Turkey's Democratization and Integration with Europe," Global Review of Ethnopolitics (now Ethnopolitics) 1 (4), pp. 74-93 (June 2002)
3. Chapter titled "Ethnic and Regional Conflict," pp. 173-196 in World at Risk: A Global Issues Sourcebook. New York: Congressional Quarterly Press: May 2002. (Selected "Outstanding Academic Title" for 2002 by Choice magazine, revised edition published in 2009)
2. "Collective Action or Madness?: Explaining Group Identities and Violence." Review of Path to Collective Madness: A Study in Social Order and Political Pathology by Dipak K. Gupta. Journal of Socio-Economics 31 (3), pp. 318-322. June 2002
1. "Cascades of Ethnic Polarization: Lessons from Yugoslavia."Annals of the American Academy of Political and Social Science 573, pp. 127-151 (January 2001)
Teaching (Courses taught):
PhD level course:
Comparative Politics
MA level courses:
Comparative Politics
Politics and International Relations of Religion and Secularism
Undergraduate Courses:
Religion, Secularism and Democracy in the World
Political Economy of Institutions, Values, and Development
Politics of International Finance
Introduction to Comparative Politics
Political Economy of Ethnicity, Conflict, and Development