Stockholm University, SUITS and our Partners
Stockholm University conducts leading research across a range of disciplines. The quality and impact of this important work depends in part upon the university's collaboration with relevant actors in civil society and the private sector.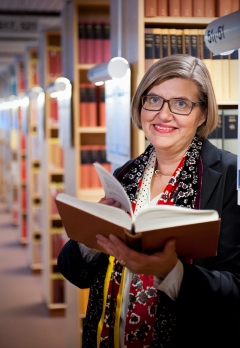 Astrid Söderbergh Widding, Vice-Chancellor
The establishment and inauguration of SUITS is made possible by the dedication and generous support from our external partners, and stands as an illustration of the values that strategic partnerships can bring to the university.
– Turkish studies are extremely complex. The fact that we have attracted such a broad range of strategic partners both from Turkey and from Sweden stands as a guarantee both for multiple perspectives on the research and for the anchorage of the institute in the middle of contemporary society, says Astrid Söderbergh Widding, Vice-Chancellor/President, Stockholm University.
Our Strategic Partners contribute financially and by nominating representatives to the Institute's Advisory Council, which provides guidance and advice to further the mission of the Institute. SUITS' Associate Partners also contribute in the Advisory Council and by making their experience, expertise, and networks available to the institute's faculty and staff.
Statement by Mr. Carl Bildt,
Swedish Minister for Foreign Affairs, in support of the Stockholm University Institute for Turkish Studies:
"The knowledge generated at the institute would benefit Sweden as well as the rest of the EU and Turkey. It would also contribute to a better international understanding of Turkey's regional role. For Swedish and other European Union business interests in Turkey, and for Turkish companies active in EU member states, a world class research institute would be a most valuable asset in deepening future relations."

Last updated: October 10, 2017
Source: SUITS