Research Seminar: Gender and Religion in Migration
EVENT
Date:
20 June 2017, 1.00 PM
-
20 June 2017, 3.00 PM
Venue:
Seminar room 116, Kräftriket 4A, Stockholm University
Female Preachers Sent to Europe by the Turkish Presidency of Religious Affairs by Chiara Maritato, SUITS Postdoctoral Visiting Researcher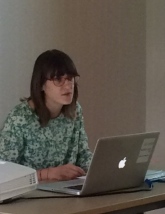 Since the early 2000s, the Turkish Presidency of Religious Affairs (Diyanet) has consistently increased the number of female preachers (vaize, pl. vaizeler) sent to Europe. Charged of enlightening Turkish Muslim women living abroad over religious knowledge, the vaizeler are civil servants whose religious sessions represent only one aspect of the multifaceted Diyanet's grip on international affairs. The seminar originates from an ongoing project investigating the forms and the meanings of the vaizeler's activities within the Diyanet's women sections (kadın kolları) in Europe.
About the scholar:
Chiara Maritato obtained a PhD in Political Science and International Relations at the University of Turin. She is now postdoctoral fellow at the Department of Cultures, Politics and Society (DCPS) at the University of Turin and postdoctoral visiting researcher at SUITS. Her research interests include the relation between state and religion in Turkey, with a particular focus on female preaching and the Turkish Presidency of Religious Affairs' policies towards women and the family. Her works have been published in Turkish Studies and Religion, State and Society, among other journals.