UI and SUITS team up for a successful panel discussion
A panel discussion on "Geopolitical Realignments: Turkey in an unstable region" was held on 22 November and co-hosted by SUITS and the Swedish Institute for International Affairs.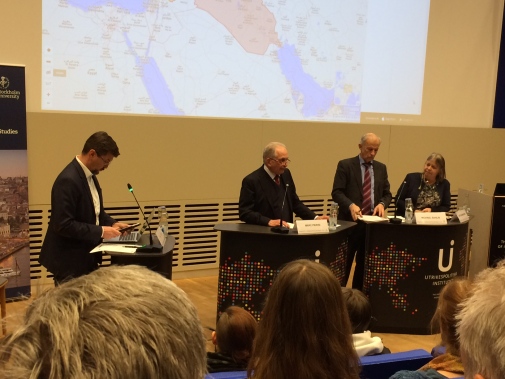 The discussion featured Michael Sahlin, Distinguished Associate Fellow at SUITS and former Swedish Ambassador to Ankara; Marc Pierini, Visiting Scholar at Carnegie Europe and former head of the EU delegation to Turkey; Bitte Hammargren, Head of UI's Middle East and North Africa programme and former Turkey correspondent for Svenska Dagbladet; and Paul Levin, Director of SUITS.
Each panellist focused on different groups of actors and their relationships with Turkey. Marc Pierini began the conversation by noting that "all politics are local" and speaking about how internal politics are affecting relationships with the EU. Michael Sahlin addressed the relationship with NATO and the USA, but also pointed out that the relationship with Russia has become much more prominent in recent years. Speaking about the Middle East, Bitte Hammargren stressed the importance of Iran as a major actor in the region and compared its policies to Turkey's. The ensuing discussion was lively and rooted in the deep expertise of the both the panel and audience members.