Turkish diaspora provides insight into current migration issues
'Migration from Turkey to Sweden,' co-edited by Bahar Baser and Paul T.Levin, studies integration, belonging and transnational community. It marks the 50th anniversary of the Turkish diaspora in Sweden and looks at the phenomenon from the migrants' points of view.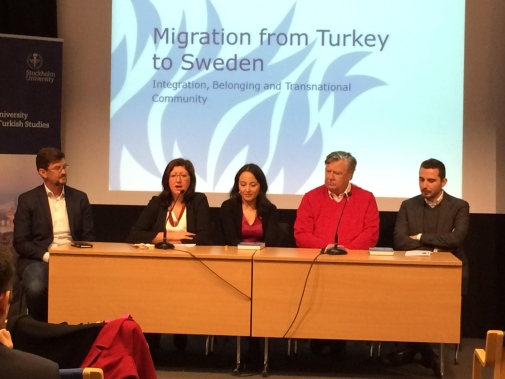 On 17 October, 2017 an event at Medelhavsmuseet celebrated the publication of Migration from Turkey to Sweden: Integration, belonging and transnational community. Present were five of the scholars who contributed to the collection of scholarly essays. Aryo Makko, Bahar Baser, Charles Westin, Constanza Vera-Larrucea and Paul T Levin all discussed their contributions to the book and how the book contributes to contemporary scholarship.
Interview with the editors:
What inspired you to collaborate on this book?
Paul T Levin, Director of Stockholm University Insitute for Turkish Studies: SUITS was lucky to have Bahar Baser as a postdoctoral researcher investigating the Swedish and German diasporas. She had a tremendous network both within Sweden and with Turkish scholars throughout Europe.
Bahar Baser, Research Fellow at the Centre for Trust, Peace and Social Relations at Coventry University: 2015 marked the 50th anniversary of migration from Turkey to Sweden and we wanted to commemorate it.
What makes this book unique?
BB: As far we know, this the first English-language book on the topic.
PL: The book approaches the topic from the migrants' and their children's points of view. The authors, who are primarily Turkish, based their work on extensive interviews.
What did you uncover about Turkish migration?
PL: The community by and large adapted well to Sweden, especially when compared with other nationalities in Sweden and with Turkish people in other countries.
BB: Migrants can keep their identities and loyalties towards their kin in the homeland, but that is not necessarily a barrier to their integration into the host society.
What can this book teach us about current issues with migration?
PL: Swedish society is not always as welcoming as we might think.
BB: Integration is not a simple phenomenon. Our understanding of assimilation should be much more complex and open for understanding today's transnational practices.