SUITS Paul T. Levin at Europaforum Hässelholm
The Europaforum Hässleholm held a panel discussion yesterday on Turkey, refugees and the values of the EU. In addition to the SUITS director, H.E. Anders Ahnlid (Sweden's former EU ambassador) and Bitte Hammargren from Utrikespolitiska institutet were also on the panel, with Ylva Nilsson as moderator.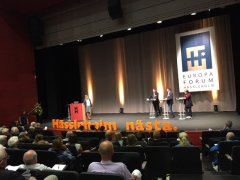 Europaforum Hässleholm is one of Sweden's key meeting places for discussions about questions affecting Europe. It brings together politicians, researchers, opinion leaders and the public through open and constructive dialogue.
The conference runs from 28-31 August with each day dedicated to a different topic. The first session addressed "Europe in a new world" with panels contemplating what Europe's role should be in a changing society and the impact of the refugee agreement between the EU and Turkey.
Changing relationships between Turkey and the EU
The panel entitled "Turkey, the refugees and the EU's values" addressed questions like: How has the EU's international role and reputation been affected by the refugee deal with Turkey? Does the deal mean that the EU must accept the living conditions of refugees in Turkey? What kind of relationship will Turkey and the EU have in the years to come?
Panel participants included Paul T Levin, director of SUITS, H.E. Anders Ahnlid, Sweden's current ambassador to Finland and former ambassador to the EU, and Bitte Hammargren, Director of the Middle Eastern and North African programme at the Utrikespolitiska institutet. Ylva Nilsson, EU journalist, Om Europa, served as moderator.