"Reinstating the Ottomans" out in paperback
Isa Blumi's book, Reinstating the Ottomans: Alternative Balkan Modernities 1800-1912, has recently been released in paperback by Palgrave Macmillan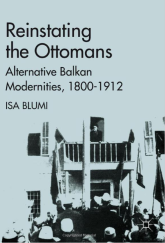 Isa Blumi, Senior Lecturer/Associate Professor of Turkish Studies, researches societies in the throes of social upheavals. In his 2011 book, Reinstating the Ottomans: Alternative Balkan Modernities 1800-1912, he goes beyond nationalist discourses and linear narratives to focus on the particularities of local communities and individuals. The result is a better understanding of the complexity and variation that developed within Balkan society, with a particular focus on those who today might be called Albanians.
This kind of "subaltern" study, focusing on groups outside of the dominant power structure, has become even more prevalent in the years since the book was released.
Paperback release points to its continuing appeal and influence
The book was well received at its release. Nathalie Clayer, Director of CETOBaC and professor at EHESS (Paris), called it a "significant contribution to the rewriting of the history of the late Ottoman Balkans in particular, and of late Ottoman history in general." In the Journal of Ottoman Studies, Sümeyra Aydemir praised the book for its "compelling findings regarding the fluidity of national identity in the region's past, local loyalties, and state-society relations, all of which give a comprehensive and proper understanding of the area today."