Panel discussion on Turkish elections available as podcast
"Local elections in Turkey: what lies ahead", a collaboration between SUITS and the Swedish Institute of International affairs (UI), is available for streaming
An open panel addressing the outcome of the 31 March 2019 elections was held at Utrikespolitiska institutet on 2 April.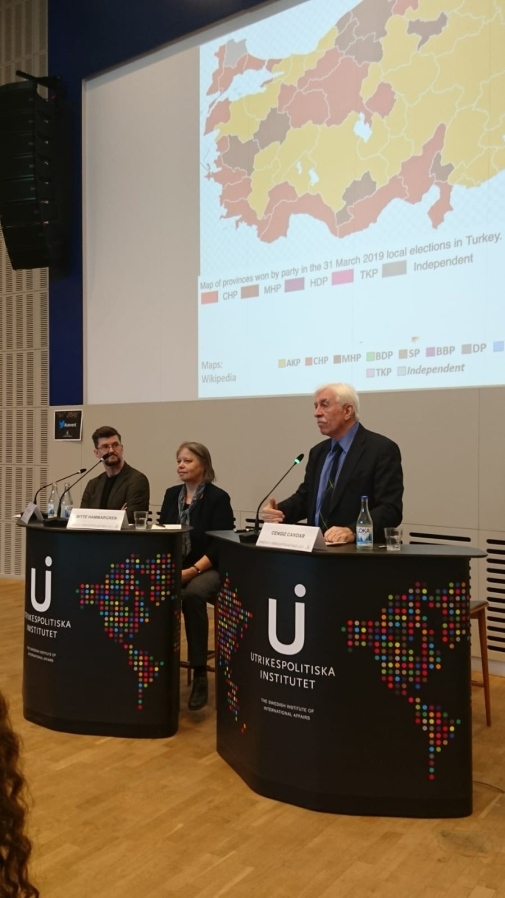 The event at the UI was moderated by Aras Lindh, MENA Programme Manager at UI and the three panelists were: Paul Levin, Bitte Hammargren and Cengiz Candar
Bitte Hammargren gave an outline of events over the last couple of months, explaining the socio-political dynamics that generated the results of last week's election. She compared the results with those of the local elections in 2014.
Paul Levin focused more on Turkish economy and provided the audience with detailed economic data that demonstrated the overall deterioration in Turkish economy. He underlined how the change brought by the elections on March 31 might further undermine AKP's power as municipalities generate a vast network of patronage links that have been passed to opposition parties. Levin further discussed how the loss of control over a significant portion of economy would possibly have serious reverberations in the coming years.
Cengiz Candar spoke about what these changes might bring in the long term. He emphasised that the results represented a loss for the ruling party. In conclusion he intoned that though it's wounded, Turkish democracy is still breathing.
Original announcement for the event