Cengiz Çandar at Middle East Institute in DC
On 8 September 2017 Distinguished Visiting Scholar Cengiz Çandar spoke about the declining relationship between Turkey and Germany at the Middle East Institute in Washington DC.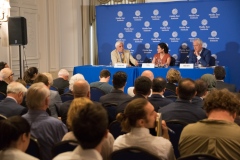 The relationship between Germany and Turkey has become increasingly fraught, from Turkey's arrest of a Turkish writer with German citizenship, to Erdoğan calling Germany's main political parties "enemies of Turkey" and encouraging their defeat, to Chancellor Merkel pushing the EU to retaliate economically.
The wider impact of the Turkey/Germany relationship
The panel discussion took on questions such as: How does this impact Turkey and the EU? How is it perceived by business leaders and politicians? Can this relationship be fixed?
In addition to Cengiz Çandar, known for his journalism, analysis and expertise on Middle Eastern politics, the panel included Michael Meier, Director, Friedrich-Ebert-Stiftung (FES) and expert on foreign and security policy in MENA with a special emphasis on Turkey. The panel moderator was Gönül Tol, Director for Turkish Studies, MEI and frequent media commentator.
More information on panel participants and Middle East Institute