Ahmet Gürata – New visiting researcher of Turkish media and scholar at risk
Dr. Ahmet Gürata, a film scholar specializing in Turkish cinema and media, has recently joined Stockholm University as senior visiting scholar. He left Turkey after being put on trial for signing Academics for Peace's Declaration and comes to Stockholm University Institute for Turkish Studies through Scholars at Risk.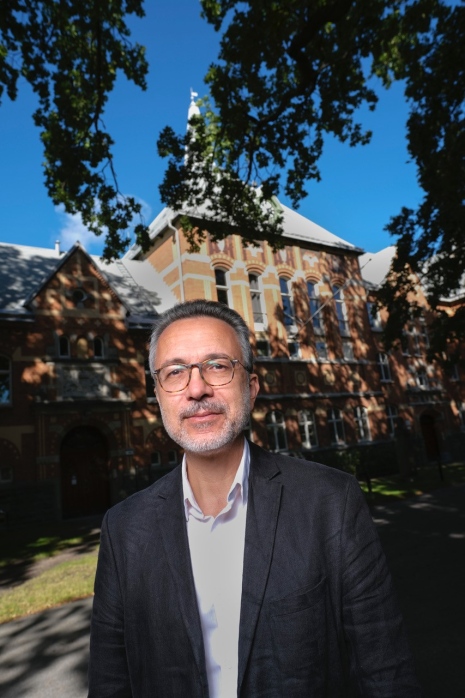 "I am very excited to be part of SUITS which is a major center for research in social sciences and humanities with special emphasis on Turkey. And I am looking forward to working with such a distinguished team," said Gürata. His research focuses on cinema and modernization, cross-cultural reception, film cultures and audiences, as well as digital approaches in film and media studies.

Authoritarianism through the lens of machine-humans and human machines

Gürata has recently been working on the history of cybernetics, and the relationship between politics and technology in Turkey. "I am examining the influence of cybernetics in the transformation of institutional contexts and popular science discourses in Turkey. I believe this may shed some light on the link between early adaptation of cybernetics and the contemporary conservative approaches to science and technology as a means of control in Turkey."
More on Ahmet Gürata's research

Deterioration of human rights and academic freedom in Turkey

Ahmet Gürata was recently tried and acquitted in Turkey as a signatory of Academics for Peace's declaration. "Basic human rights, including freedom of expression and freedom of association, has been deteriorating drastically in Turkey within the past few years. As a result, there are severe restrictions on academic freedom. Since, the declaration of the State of Emergency in July 2016, over 7,000 university personnel have been expelled from their position. Many of them have lost their passports and are subject to a lifetime ban from public employment. Hundreds of scholars, staff, and students detained or arrested."

Repercussions for signatories to Academics for Peace

Eventually, two years ago Gürata decided to move to Europe to work and research. With the assistance of Scholars at Risk Network, he worked at University of Agder in Norway prior to Stockholm University.

Scholars at Risk is a network dedicated to protecting scholars and freedom of thought around the world. In addition to their advocacy responding to attacks on higher education, they also help place threatened scholars by arranging temporary academic positions for displaced scholars suffering these threats. Stockholm University is a member of SAR Sweden, and 50% of the position is financed through Riksbankens Jubileumfond. SAR "does a tremendous job in helping such scholars find safe havens where they can continue their research without facing censorship or other repercussions", said Paul T Levin, director of the Institute for Turkish Studies.
President Astrid Söderbergh Widding on Scholars at Risk

Stockholm: safe haven for the critical mind

Paul T Levin sees supporting freedom of academic expression as crucial to the mission of SUITS. "As one of the leading research environments in the world for Turkish studies, SUITS in my view has a particular responsibility to help support independent scholarship in our field so I am delighted that we have been able to work with SAR to provide a safe space for a visiting scholar from Turkey. When reviewing candidates from SAR, we look carefully at their scholarly merits, and Ahmet Gürata would be a tremendous candidate regardless of the SAR connection. He is one of Turkey's leading film studies scholars and has a background as department head at one of the country's top universities. I am delighted to have him be a part of SUITS."

And Ahmet Gürata looks forward to his 13 month tenure at Stockholm University. "Stockholm has been a safe haven for many intellectuals and artists especially in 20th century. It provides a vibrant and stimulating atmosphere for a critical mind. I am very delighted to be here, and I am looking forward to discovering the endless opportunities the city and the university has to offer."