Referendum in Turkey inspires two panel discussions in Stockholm
On 26 and 27 April, SUITS hosted 2 successful panel discussions. The first was cohosted with the Folke Bernadotteakademin and featured the OSCE's election observers who had just returned from Turkey. The second was a panel discussion comprised of SUITS faculty.
Panel discussion with election observers examines the harsh conclusions of OSCE's report
On 26 April 2017 SUITS and FBA (Folke Bernadotteakademin) cohosted a panel discussion with the election observers Lars Lagergren and Robert Hall which Paul Levin and had Ülkü Holago as moderator. The event took place in Swedish.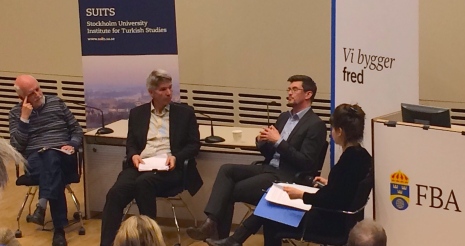 It began with Stina Larserud from Folk Bernadotteakademin (FBA) welcoming everyone to the Sverigesalen on the Försvarshögskolan campus. FBA recruits the international election observers crucial to the creation and maintenance of free and democratic societies. The journalist Ülkü Holago moderated the panel and started with a summary of the OSCE's report, emphasising the poor foundations for a truly democratic vote in Turkey. Paul T. Levin further described conditions there since the 2016 coup.
Knowledge of local conditions key for understanding the process
Lars Lagergren and Robert Hall spoke from their experience as OSCE observers of the referendum in Izmir and Erzurum respectively. They spoke about how information for the report was gathered - by interviewing experts in legal matters, politics and the media, among other things - as well as how the OSCE focuses on the process of voting and not the outcome.
SUITS faculty looks to the future
On 27 April, there was a panel entitled: Turkey's pivotal referendum: what comes next. Here, the focus was on the implications of the referendum and the future of Turkey. Jenny White acted as moderator.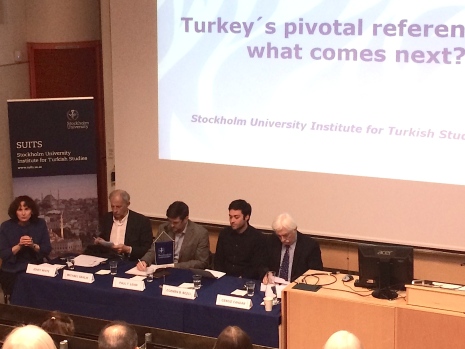 Each panel member spoke about their own areas of expertise. Paul T. Levin, who had recently returned from Turkey, expanded on the details of the referendum and its implications for the EU. Cengiz Çandar talked about his experience with activism. Egemen Bezci addressed the military and security aspects of the decision and Michael Sahlin spoke about potential diplomatic ramifications and how the referendum related to other happenings internationally.
Open dialogues key to full understanding
The discussions at both panels were fruitful and informed. Many questions concerned the future of opposition groups and candidates. Other questions asked panelists to speculate on Turkey's longterm future depending on hypothetical, shorter term possibilities.