Dr. Bahar Baser
Dr. Bahar Baser is a Research Fellow at the Centre for Peace, Trust and Social Relations at Coventry University, UK. She was Senior Visiting Scholar at the Stockholm University Institute for Turkish Studies (SUITS) during 2015.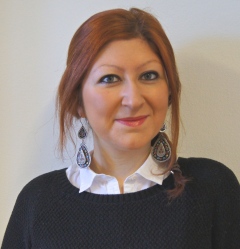 She was a Postdoctoral Research Fellow at the University of Warwick at the Department of Politics and International Studies between 2012 and 2014. Bahar completed a PhD in Social and Political Sciences at the European University Institute in Florence, Italy. During her PhD, she had the opportunity to work as a Visiting Research Fellow at Humboldt University (Berlin Graduate School of Social Sciences) in Germany, REMESO (Institute for Research on Migration, Ethnicity and Society) in Norrkoping, Sweden and Instituto Ciencias Sociais (ICS) in Lisbon, Portugal. Prior to her PhD, Bahar worked at the Department of Peace and Conflict Research at Uppsala University in Sweden as a Junior Researcher on the "Diasporas and Their Involvement in Peace Processes" project funded by the Swedish Ministry of Foreign Affairs. She holds an MA degree on Peace and Conflict Studies from Uppsala University, Sweden and BA in Political Science in International Relations from Bogazici University, Turkey. Bahar's research interests include ethno-national conflicts and political violence, conflict resolution, third party mediation, migration and diaspora studies. Bahar has various publications in peer-reviewed academic journals and she recently published a book in Turkey entitled: "The Turkish-Kurdish Question in the Diaspora: Second-generation in Sweden and Germany."
Selected publications:
Baser, B. (2015) 'Gezi Spirit in Transnational Space'. In Everywhere Taksim: Politics in Contemporary Turkey. Ed. By David, I., and Toktamis, K. Amsterdam: Amsterdam University Press, 251-265.
Baser, B. (2015) 'Alternative Voices in the Kurdish Diaspora: The case of KOMKAR'. In Dismantling diasporas: rethinking the geographies of diasporic identity, connection and development. Ed. by Mavroudi, E., and Christou, A. Farnham: Ashgate.