Dr. Ahmet Gürata
Dr. Ahmet Gürata is a senior visiting scholar at Stockholm University Institute for Turkish Studies (SUITS)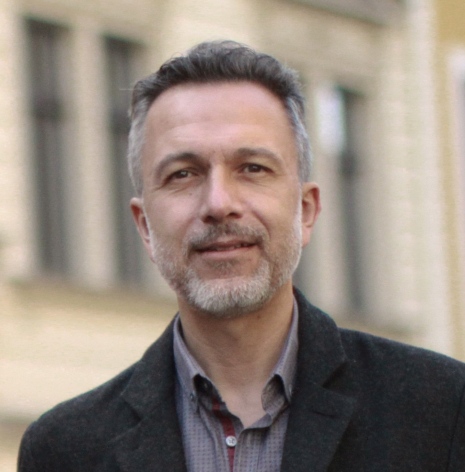 Ahmet Gürata is a film scholar and critic. He has received his PhD in Humanities and Cultural Studies at the London Consortium in 2003. Since then he has taught and supervised theses at universities in Turkey, UK and Norway. Gürata published research on cinema and modernization, cross-cultural reception, film cultures and audiences. His current research includes projects on comparative and digital film studies, documentary practice and the history of cybernetics.
He is the coordinator of the online digital archive project turkishcine.ma (a sister project of indiancine.ma and pad.ma). As a film critic he writes and podcasts regularly for a number of publications and platforms. He also works as a programmer for Antalya Golden Orange Film Festival and Festival on Wheels. He has curated several thematic programs for festivals.
As project consultant and advisor he has been involved with a number of film projects. He has been tutoring at "Docedge: Asian Forum for Documentary" since 2012. And he is currently working on a documentary project.
Selected publications:
Imitation of Life: Representing and Remaking Modernity, Editions Moustache, 2020 (forthcoming).
"Climate Change in Literature, TV and Film from Norway," (with Reinhard Hennig, Julia Leyda, Anne Gjelsvik, Katie Ritson, Aasta Marie Bjorvand Bjørkøy and Sissel Furuseth), Ecozon@: European Journal of Literature, Culture and Environment 10:3 (2020, forthcoming).
"New Waves and New Confusions: The Case of Birds of Exile (1964)," in G. Schöllhammer and R. Arevshatyan (eds.), Sweet Sixties (Berlin/New York: Stemberg Press, 2014): 365-73.
"The Politics of Re-presentation: Distribution and Exhibition of Indian Cinema in Turkey," Marg: A Magazine of the Arts 64:4 (2013): 78-85.
"City of Intrigues: Istanbul as an Exotic Attraction," in Özlem Köksal (ed.) World Film Locations: Istanbul (London: Intellect, 2012): 14-15.
"A Polemic: Non-western Historiography" (with Louise Spence), Cinema Journal 50:1 (2010): 131-135.
"'The Road to Vagrancy': Translation and Reception of Indian Cinema in Turkey," Bioscope: South Asian Screen Studies 1:1 (2010): 67-90.
"Hollywood in Vernacular: Translation and Cross-Cultural Reception of American Films in Turkey," in Melvyn Stokes, Robert C. Allen and Richard Maltby (eds) Going to the Movies: Hollywood and the Social Experience of Cinema (Exeter: University of Exeter Press, 2007): 333-47.
"Translating Modernity: Remakes in Turkish Cinema", in Dimitris Eleftheriotis and Gary Needham (ed.) Asian Cinemas: A Reader and Guide (Edinburgh: Edinburgh University Press, 2006): 242-54.
"Tears of Love: Egyptian Cinema in Turkey (1938-1950)", New Perspectives on Turkey 30 (2004): 55-82.