Dr. Isa Blumi
Isa Blumi is Senior Lecturer/Associate Professor of Turkish Studies at Stockholm University Institute for Turkish Studies.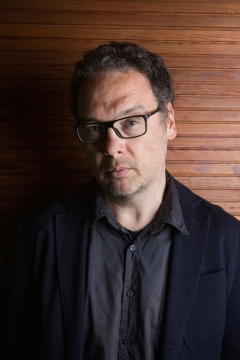 He holds a PhD in History and Middle Eastern/Islamic Studies from New York University and a Master of Political Science and Historical Studies from The New School for Social Research, New York.
Isa Blumi researches societies in the throes of social, economic, and political transformation. His latest work covers the late Ottoman period and successor regimes, arguing that these events are part of process that interlinks the Balkans, the Middle East, and the larger Islamic world. In this respect, it is key to explore in a comparative, integrated manner how post-Ottoman Turkey fits into what is a global story of transition.
As he expands his work to include more of the 20th century, Blumi explores processes of change induced by Muslim refugees who ended up settling throughout the world. Exploring these refugees' stories through this global perspective helps question how we understand identity and social organization, themes Blumi will focus on in the courses he will teach. Beyond his historical research, Blumi also regularly writes, and lectures on contemporary Balkan and Middle Eastern politics (especially Kosovo, Turkey and Yemen) and political Islam.
Dr. Isa Blumi joins Stockholm University after spending the last 10 years teaching and researching in universities located in Germany, Belgium, Turkey, the USA, United Arab Emirates, Switzerland, and Albania/Kosovo.
Selected books:
Blumi, Isa. Ottoman Refugees, 1878-1939: Migration in a Post-Imperial World (London: Bloomsbury Academic, 2013).
Blumi, Isa and Hakan Yavuz, eds. War & Nationalism: The Balkan Wars (1912-1913) and Socio-Political Implications (Salt Lake City: University of Utah Press, 2013).
Blumi, Isa. Foundations of Modernity: Human Agency and the Imperial State (New York: Routledge, 2012).
Blumi, Isa. Reinstating the Ottomans: Alternative Balkan Modernities, 1800-1912 (New York: Palgrave, 2011).
Blumi, Isa. Chaos in Yemen: Societal Collapse and the New Authoritarianism (New York: Routledge, 2010).
Blumi, Isa. Rethinking the Late Ottoman Empire: A Comparative Social and Political History of Albania and Yemen, 1878-1918 (New York: Gorgias Press, 2010).
Selected articles and book chapters:
Blumi, Isa "The Transformation of Islam in Kosovo and its Impact on Albanian Politics," in Branislav Radeljić and Martina Topić (eds.) Religion in the Post-Yugoslav Political Context (Lexington Press, 2015).
Blumi, Isa (with Gëzim Krasniqi). "Albanians' Islam[s]." In Handbook for European Islam, ed. Jocelyne Caesari (New York: Oxford University Press, 2014).
Blumi, Isa. "An Honorable Break from Besa: Reconsidering Ottoman Administration in the Balkans, 1850-1881," European Journal of Turkish Studies 18 (2014).
Blumi, Isa. "Religion and Politics among Albanians of Southeastern Europe." In Religion and Politics in Central and Southeastern Europe: Challenges since 1989, ed. Sabrina P. Ramet (New York: Palgrave, 2013).
Blumi, Isa. "Not our Kind: Generational Barriers Dividing Postwar Albanian Migrant Communities." In Walls, Borders, Boundaries: Strategies of Surveillance and Survival, eds. Marc Silberman, Karen E. Till and Janet Ward (New York: Berghahn Books, 2012): 155-172.
Blumi, Isa. "Neither Eastern nor Welcome: The Confused Lives of Berlin's Balkan Migrants, 1950-2000." In After the Fall: Berlin in Germany and Europe, eds. Marc Silberman, Karen E. Till and Janet Ward (New York: Palgrave-Macmillan, 2011): 183-207.
Blumi, Isa. "Entangled Trajectories: The Interweaving Interests of the Local and the Evolution of Modern Imperialism in the Balkans." Balkanistica 24 (2011): 25-58.
Blumi, Isa. "Adding New Scales of History to the Eastern Mediterranean: Illicit Trade and the Albanian." In Cities of the Mediterranean: From the Ottomans to the Present Day, eds. Meltem Toksoz and Biray Kirli (London: I.B.Tauris, 2010): 116-138.
Blumi, Isa. "Translating Imperial Failures into Smugglers' Gold: The Boundaries of State in Ottoman Albania and Yemen, 1872-1908." In Boundaries in Depth and in Motion, ed. I. William Zartman (Athens: University of Georgia Press, 2010): 73-100.
Blumi, Isa. "The Frontier as a Measure of Imperial Power: Local Limits to Empire in Yemen, 1872 to 1914." Proceedings of the British Academy 156 (2009): 289-304.
Blumi, Isa. "Defining Social Spaces by Way of Deletion: The Untold Story of Albanian Migration in the Post-war Period" Journal of Ethnic and Migration Studies 29/6, [November 2003]: 949-965.
Blumi, Isa. "Contesting the Edges of the Ottoman Empire: Rethinking Ethnic and Sectarian Boundaries in the Malësore, 1878-1912," International Journal of Middle East Studies, 35/2 [May 2003]: 237-256.
Blumi, Isa. "The Islamist Challenge in Kosova," Current History 101/2 [March 2003]: 124-128.
Email:
Phone:
0046(08) 16 2512
Visiting Address:
Kräftriket 4A, room 131
Postal Address:
Department of Asian, Middle Eastern and Turkish Studies
Stockholm University
106 91 Stockholm