Cengiz Çandar
Cengiz Çandar is Distinguished Visiting Scholar at the Stockholm University Institute for Turkish Studies (SUITS).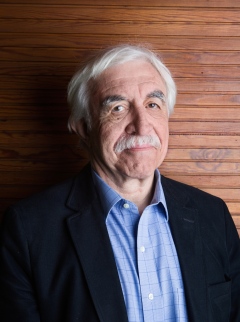 Cengiz Çandar is a frequent commentator on Turkey, Kurdish issue and Middle East affairs in international newspapers, on TV, and in lectures at universities around the world, including at Harvard University and University of Oxford. Since 2018, Cengiz Çandar has been a Senior Associate Fellow at the Swedish Institute of International Affairs (UI) in the Middle East and North Africa Programme.
Çandar began his career as journalist in 1976 for the newspaper Vatan and has worked worked for the leading Turkish newspapers Cumhuriyet, Hürriyet, Sabah, and, until it was closed down recently, Radikal. Today, he regularly contributes articles to Al-Monitor, a widely respected online magazine that provides analysis on Turkey and the Middle East.
Cengis Çandar's writings for Al-Monitor can be accessed here: http://www.al-monitor.com/pulse/contents/authors/cengiz-candar.html
E-mail:
Visiting Address:
Kräftriket 4A, room 267
Postal Address:
Department of Asian, Middle Eastern and Turkish Studies
Stockholm University
106 91 Stockholm
Selected Bibliography
Book written in his residence at the SUITS
Turkey's Mission Impossible: War and Peace with the Kurds, Lexington Books of Rowman & Littlefield, United States and U.K., 2020.

Contributions to books during his residence at the SUITS
The Perrenial Kurdish Question and Failed Peace Processes, The Routledge Handbook of Turkish Politics (ed. Alpaslan Özerdem and Matthew Whiting, Routledge, London and New York, 2019), pp.253-266
"I Nea Turchia", "O Neo Ethnikismos", Oi Politiskes Gia Tin Mesi Anatoli Kai Oi Kurdoi "The Middle East policy of 'New Turkey', 'Neo-Nationalism' and Kurds" in Herkül Millas (ed.), Η "Νέα Τουρκία" εκ των έσω [The New Turkey from the Inside] (Athens: Sideris Publication).
Ankara, L'Alleato Con Riserva (Ankara,The Ally with Reserve), La Turchia Secondo Erdoğan, (in Italian) Limes, Italian Review of Geopolitics, Roma, October 2016), pp.147-152

Articles published by various think-tanks
Erdoğan's War in Syria- A Path to Disaster, UI Utrikesmagasinet (Stockholm, March 6, 2020)
The Kurdish "Other" and the American Enemy Ensure the Cohesion of Turkey's Nationalist Regime (The Turkey Analyst, February 14, 2019)
Iraq: From a Failed State to the Epicenter of Change, UI Utrikesmagasinet (Stockholm, December 5, 2018)
Turkey's Kurds at the Crossroads: To the Political Graveyard of Turkey or To Be the Gravediggers of Turkish Autocracy? (The Turkey Analyst, May 22, 2018)
New Turkey: Neo-nationalist or the reincarnation of the "Old"? (The Turkey Analyst, A Publication of the Central Asia-Caucasus Institute and Silk Road Studies, December 20, 2017)
A New Turkey? Implications of the Failed Military Coup and Subsequent Political Coup, Horizons, (Belgrade, Autumn 2016, Issue No.8

Contribution to English-language books before his association with the SUITS
Turkey's Transformation and American Policy, (ed. Morton Abramowitz), Century Foundation, New York, 2000
The United States and Turkey - Allies in Need, (ed. Morton Abramowitz), Century Foundation, New York, 2003.
The Future of Turkish Foreign Policy (ed. Lenore G. Martin and Dimitris Keridis, MIT Press, Cambridge, Massachusetts, 2004)
Leaving the Mountain – How may the PKK lay down arms? Freeing Kurdish Question from Violence, TESEV (Turkish Economic and Social Foundation) Report (Istanbul, 2011)
Last updated: July 27, 2020
Source: SUITS