Organisation and Management
As an independent and interdisciplinary research institute, SUITS' activities span the Humanities, Law, and Social Sciences. Organizationally, the institute sorts under the Faculty of Humanities and is placed at the Department of Asian, Middle Eastern and Turkish Studies.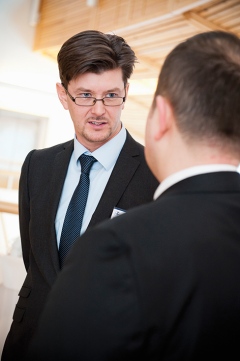 Paul Levin, Director of SUITS.
The Director, Dr Paul T. Levin, to be supported by a Deputy Director, reports to a Governing Scientific Board comprised of senior Stockholm University faculty members. The Governing Scientific Board is chaired by the Vice-Chancellor and makes overarching decisions on important matters concerning SUITS' research agenda, activities, organization and financial administration.
Representatives from civil society and private sector
The management and the Board is supported by an Advisory Council consisting of experienced representatives from civil society and private sector organisations, including SUITS' partners, and chaired by Prof. Dr. Johan Kleman of Stockholm University. The members of the Council are appointed by the Vice-Chancellor.
The institute has a small administrative staff and permanent faculty along with a larger group of rotating visiting scholars, including both post-doctoral and more senior scholars. The institute also aims to provide scholarships, office space, and advisors to Ph.D. students, in collaboration with other departments at Stockholm University.
Founder of TurkEU Blog
The Director, Dr. Paul T. Levin, is the author of Turkey and the European Union: Christian and Secular Images of Islam (NY: Palgrave Macmillan 2011), the founder of The TurkEU Blog, and coordinator of the Swedish Turkey network.
He has previously taught International Relations at the Department of Economic History and served as Program Director for Governance and Management Training, both at Stockholm University. Dr. Levin has been a recurring guest lecturer at Oxford University's Programmes in Leadership and Public Policy and a Visiting Scholar at the School of Government at Sun Yat-sen University, China. He received his Ph.D. degree from the School of International Relations at the University of Southern California in 2007.
Last updated: September 16, 2021
Source: SUITS